We should be watching the opening ceremony of the XXXIII Olympiad right now.
But COVID has changed the history of the Olympics along with so many other features of our lives. Tokyo 2020 retains the name, but the dates have changed.
Originally scheduled to take place from July 24th through the second week of August this year, Tokyo 2020 now opens on July 23rd 2021. They are the first Summer Games to be postponed instead of cancelled due to an international crisis.
You can still make plans to be in the stands for Tokyo 2020 in 2021 and part of the excitement in Japan's capital. The date changes will mean a magnified Olympic energy, pent up for an extra year. Always an international, feel-good rally, the 2020 Olympics in Tokyo in 2021 promise to be even more symbolically charged in the year following the COVID crisis.
So next year more than many other Olympics, all eyes will be on Tokyo. In addition to all our favorite Summer Olympic sports, new competitions at Tokyo 2020 will include freestyle BMX and 3x3 basketball, as well as the debut of surfing, skateboarding and karate, sports proposed by the host country.
But Japan's national sport will not be played at the Tokyo 2020 Games.
Sumo is only practiced at the highest levels inside Japan. There is no competition between nations like Olympic Games for sumo.
Instead, between the closing of the Olympic Games and the opening of the Paralympic Games, the Japan Sumo Association has planned to stage a special, two-day sumo exhibition tournament.
It gives attendees at the Olympic Games the opportunity to be a part of one of the world's most rare, ritualized, ancient sports still part of a country's modern culture.
Sumo is often caricaturized in Western culture. You may have even been to parties where brave or joker guests don inflatable 'sumo' costumes, throw themselves at each other and roll around on the floor, laughing.
Sumo was first mentioned in writing in the 700's, but pre-historic wall paintings show sumo's roots in ritual dances for good harvests;
Matches are held in a 15-foot wide clay ring;
Far from colliding and rolling around on the floor like the Western party game, sumo wrestlers try to force their opponents outside of the ring in full-contact, ritualized movements that are considered a martial art;
Sumo wrestlers are required to wear their hair long in a waxed topknot, in an historically Samurai warrior style;
In the ring, they wear 30-foot long belts (not diapers!), tied in the back, that the other wrestler can latch onto to throw his opponent out of the ring;
Matches begin with a powerful crouch and charge that use the wrestlers' great size to full effect;
There are no weight classes in sumo, so the bigger wrestlers can get, the better! Sumo wrestlers consume specific, traditional foods – up to 20,000 calories every day, or 10 times what an average person needs! – to gain and maintain weights in excess of 300 pounds. In modern sumo history, 3 famous sumo wrestlers have even weighed in at over 600 pounds!;
Even today, other customs and traditions of sumo are very linked to Japan's ancient Shinto religion, including the throwing salt to purify the ring.
If you are not in Japan for the special tournament following the Tokyo Games, six sumo tournaments are held for two weeks each every year throughout Japan. Tokyo's tournaments are in January, May and September, and other major cities have one each, including Osaka in March, Nagoya in July, and Fukuoka in November.
It may never be an Olympic sport, but sumo is one of the best-preserved ancient sports anywhere in the world, and an experience not to miss if you ever have a chance to travel to Japan.
#DreamNowTravelSoon
Copyright BestTrip.TV/Influence Entertainment Group Inc or Rights Holder. All rights reserved. You are welcome to share this material from this page, but it may not be published, broadcast, rewritten or redistributed.
It's one of the world's top ten busiest airports, with a flight every 80 seconds. A hundred airlines transport over 60 million passengers yearly to and from Singapore's Changi airport. So millions of travelers are already familiar with the breathtaking Nature features in the airport that's the gateway to Asia's 'City in a Garden'.
But 2019's new
Jewel Changi Airport
brings the natural world into an airport environment in a whole new, spectacular way that makes Singapore's airport a destination itself.
The Rain Vortex was inspired by
Singapore's
tropical rains. It's a 7-story feat of design and engineering that astounds you the moment you walk in the door. At over 130 feet high, it's the tallest indoor waterfall in the world, cascading dramatically through an oculus in the glass and steel dome.
The experience of the Rain Vortex changes depending what time of day you are at Jewel Changi Airport. Every evening, the flowing water, along with mist and music, becomes the centerpiece of an hourly, magical Light & Sound show designed by the same company responsible for the fountains at the Bellagio in Las Vegas and hundreds of other water, fire, light, fog and music installations around the world.
Jewel's indoor waterfall is surrounded by 5 acres of lush gardens and greenery – 2000 trees and 100,000 shrubs from 120 species in different 'parks' that make Jewel Changi Airport a lifestyle destination for visitors and locals too.
Areas like Forest Valley and Canopy Park are shopping and dining neighborhoods in a whimsical green wonderland, with cobblestone walking trails, indoor clouds, play attractions like Sky Nets, Hedge Maze, Mirror Maze and Discovery Slides that flow through themed gardens - all in climate-controlled comfort. In a man-made environment, you can enjoy tropical gardens without tropical weather!
With all the world-class shopping, dining and entertainment, Jewel is still a functioning airport that anticipates travelers' needs and offers conveniences that are a breath of relief, even for travelers with only a brief stopover in Singapore.
Thoughtful airport facilities that have been added in Jewel include early check-in counters and kiosks, a baggage storage service and the Changi Lounge, a 150-seat lounge with shower facilities, offering seamless transfers for passengers connecting to and from cruise and ferry services
Jewel also has the first YOTELAIR in Asia. The tech-savvy, smart-design, space-efficient cabin hotel concept has 130 cabin-units in Jewel in three categories. The Premium, Accessible and Family cabins can be booked for as little as four hours. They are a game changer for travelers with short daytime layovers, a very early arrival in Singapore, even an extra half day to spend time exploring all that the airport has to offer before you fly out of Singapore - even overnight stays. Hotel check-in / check-out is seamless, with time-saving, airline-style self-check-in kiosks.
Jewel also adds capacity to accommodate increasing numbers of travelers at Changi Airport. Another 3 million passengers will now be able to be accommodated annually, bringing the airport's total capacity to 85 million. And it's going to be needed with an airport that's enough reason alone to visit Singapore.
The multi-faceted innovation at Jewel gives local residents a new destination where lush Nature meets Singapore's urban energy. And it gives a renewed sense of novelty and wonder at the experience of air transportation to everyone traveling to or from Singapore.
Start your Trip!
Photos: Jewel Changi Airport Devt.
Copyright BestTrip.TV/Influence Entertainment Group Inc or Rights Holder. All rights reserved. You are welcome to share this material from this page, but it may not be published, broadcast, rewritten or redistributed.
It puts new meaning into being immersed in the local natural beauty. The pristine waters of the Maldives are epic, surrounding one of the world's most romantic, remote and legendary tropical eco paradise destinations.
Now you can sleep alongside your sweetheart or family as well as the rich marine life that animates the waters of these tiny islands in the Indian Ocean. Conrad Maldives Rangali Island is a pioneering resort: the first international hotel in the Maldives, the first underwater restaurant, and now, the first undersea residence.
It's called the Muraka, or 'coral' in the local Maldivian language, and it is an extraordinary way for up to 9 guests to experience of one of the world's most breathtaking marine environments. Specialized aquarium technology was used to create the 2-story villa, consisting of above-sea-level space, and a spiral staircase to an underwater suite more than 16 feet below sea level with a king size bedroom, living room, and bathing area under a dome with 180-degree views of the ocean.
Sleeping in an undersea dome is an almost surreal vacation, but the overwater part of the villa above is unforgettable, too. More bedrooms, one with an ocean-facing bathtub, more bathrooms, gym, space for a butler and private security, living room, kitchen, bar and dining area with a deck facing the sunset, and another deck with an infinity pool facing sunrise.
The Muraka butlers are dedicated 24-7 to hyper-personalized service. They are also ambassadors of the Maldivian island experience for undersea villa guests, sharing their passion for culture, the environment and adventure throughout your custom-crafted stay at the Conrad Maldives Rangali Island.
The resort is located in
the Maldives'
best diving and snorkeling locations. It melds harmoniously with the environment, flowing from island, over the ocean, to the overwater/undersea residence.
You can double down on the undersea experience at the Conrad Maldives Rangali Island at its trailblazing underwater restaurant. Ithaa Undersea Restaurant is also a world's first, where the fusion local and Western lunch and dinner menus, fine wine pairings, and mid-morning cocktails are accompanied by a panoramic view of coral gardens 16 feet below the surface of the ocean.
Ithaa Undersea Restaurant is one of dozen resort restaurants and bars that regularly make 'best of…' lists. Conrad Maldives Rangali Island also features an overwater spa and a Spa Retreat, and experiences inspired by the local environment and culture round out the ultimate island escape. Sunrise and sunset yoga practice. A meditation pavilion. A 5-hour journey to inner tranquility via a unique Zen revelation. A Spa Retreat with over a dozen water villas, its own restaurant, and a selection of therapies including a signature treatment inspired by the beauty practices of Maldivian women, including a heated coconut stick massage and organic, pineapple and papaya body scrub.
Consciously-designed villas and suites, from ultra-private beach villas nestled amongst the rich tropical landscape with direct beach access, to overwater villas ranging from private and romantic, to expansive for an extended group of family or friends, complete with sundecks, hot tubs steps into the sea, spa treatment rooms and more, provide the iconic Maldives vacation.
Start your Trip!
Copyright BestTrip.TV/Influence Entertainment Group Inc or Rights Holder. All rights reserved. You are welcome to share this material from this page, but it may not be published, broadcast, rewritten or redistributed.
For a city whose nighttime skyline overlooking Victoria Harbour is already a global icon of urban lighting and signage, a light festival might seem like overkill.
But the new
Hong Kong Pulse Light Festival
expands the effects of Hong Kong's famous neon signs and lit-up skyscapers to a street-level playground of luminous artworks during the darkest months of the year.
Debuting in 2018, the Pulse Light Festival runs from the last week of November through late February. Not only does the artistic light festival brighten the longest nights of the year, it also overlaps Chinese New Year festivities, a high point on Hong Kong's calendar of celebrations for an amplified celebratory atmosphere.
Artists from around the world contribute to the Pulse Light Festival to bring Hong Kong to even greater heights of brilliance in the winter. Here are some highlights visitors shouldn't miss:
'A Symphony of Lights'
It's one of the world's most spectacular light and multi-media shows, and now, Hong Kong's 'A Symphony of Lights' festival gets a winter edition. Every night, Victoria Harbour will get more dazzling, with more participating skyscrapers, more color, more pyrotechics from rooftops, and more lighting effects, all put to music that inspires. Check the calendar for special shows on red-letter dates like Christmas, New Year, and other holidays.
'A Tale of Two Trees'
The holidays are the inspiration behind 2 very different tree installations in Hong Kong. A glorious, traditional, lit-and-decorated Christmas tree lights up Hong Kong's Statue Square with the magic and wonder of the season.
Next to Hong Kong's brilliantly-lit Observation Wheel, a completely different kind of 'tree' installation reinterprets the traditional motif. The 'XTree' is a 25-metre, cubist, 'tree' made from metal scaffolds that evoke tree branches. Its strategically-placed lighting 'dances' to a soundtrack, making the 'XTree' come 'alive'. More than a visual treat, the installation is intended to inspire discussion and debate about environmentally friendlier ways to maintain and translate holiday traditions for the future.
'International Light Art Display'
The 'XTree' is one installation of a much larger display, the incandescent 'International Light Art Display'. Over a dozen, curated light art pieces by global artists from Europe, the US, India, Israel, and elsewhere in Asia, as well as several symbolic works by local Hong Kong artists, line Hong Kon's iconic Victoria Harbour for the festival.
Many installations are interactive and change color or appearance over time and in contact with visitors: revealing your inner beauty with 'Angels of Freedom' (pictured above), witnessing the dialogue of 'Talking Heads', walking through arches of 'Bat and Coin'. The light installations turn stunning Victoria Harbour from a breathtaking view to be seen from a distance, into a destination to explore and experience up close and in a festive evening atmosphere.
The Pulse Light Festival creates an unforgettable visual journey through Hong Kong, and joins other magical winter and holiday festive events, activities and celebrations that light up the night and warm hearts through the entire season.
Start your Trip!
Copyright BestTrip.TV/Influence Entertainment Group Inc or Rights Holder. All rights reserved. You are welcome to share this material from this page, but it may not be published, broadcast, rewritten or redistributed.
They're calling it a $20 billion 'umbilical cord'. The longest bridge in the world to cross sea water is an unbelievable 34 miles - 55 km - long and spans the Pearl River Delta. China's new Hong Kong-Zhuhai-Macau Bridge connects mainland China with two of China's Special Administrative Regions on the sea: Hong Kong and Macau. It's the first time residents and travelers have been able to travel by road to Macau from Hong Kong directly.
Until the new bridge, a ferry transported residents and visitors to the business, shopping and cultural center of Hong Kong to Macau's 'Vegas of Asia' casino and entertainment attractions. Now, drivers and public transportation have a direct link to all three points on the map. It cuts travel time between the three centers from 3 hours to just half an hour, and puts them within an hour's commute of each other.
China is hoping the new bridge will foster the development of a Chinese 'Greater Bay Area', an economic and innovation region along the lines of San Francisco in the US, or Tokyo next door, one that will include Hong Kong, Macau and 9 cities in Guangdong province. The area consists of 1% of China's land that already produces 12% of its wealth.
The bridge also facilitates travel for visitors. Right now, visitors to Hong Kong don't often explore the rest of the Pearl River Delta region. The bridge will allow visitors to travel from the airport in Hong Kong to Macau and the mainland in under an hour. That'll mean a lot more business for the hotel/casinos in Macau.
The former Portuguese colony has always had a much different flavor and travel experience than British-influenced, business-oriented Hong Kong. Macau's colonial heritage is Portuguese, and its modern-day character is one-of-a-kind. It is the largest gaming city in the world and the only city in the Greater China region where gambling is legal. And although it is often compared to Las Vegas, the number and extravagance of its hotel/casinos and their lifestyle puts Vegas to shame.
If you enjoy a 'little flutter at the tables', and the excitement of a casino environment, Macau is a must-visit destination.
The new Hong Kong-Zhuhai-Macau Bridge is so long it stretches as far as the eye can see and beyond. And will also have far-reaching effects on your next trip to Hong Kong, Macau and China's Pearl River Delta.
Start your Trip!


Copyright BestTrip.TV/Influence Entertainment Group Inc or Rights Holder. All rights reserved. You are welcome to share this material from this page, but it may not be published, broadcast, rewritten or redistributed.
Macau is anticipating a surge in visitors with the opening of the Hong Kong-Zhuhai-Macau Bridge that links the two cities and mainland China together by land for the first time.
The Morpheus hotel will be a big part of the allure of a trip to Macau. Designed by the acclaimed celebrity architect Zaha Hadid before her passing, the hotel at Macau's new City of Dreams complex is the world's first high-rise held up by a free-form 'exoskeleton'.
Imagine: no need for internal structural or supporting walls! That innovation literally opens up the interior to entirely new design opportunities. And the hotel's design takes full advantage.
First: the outside. It's a visionary feat of architecture and technology. The extraordinary exoskeleton that gives the hotel its structural integrity itself becomes sculptural design. Two towers connect at the base, separate, twist, then merge together again 40-storeys up. Where they separate, abstract voids appear, suggesting a figure 8 that of course is a lucky number in Chinese culture (especially helpful if you're in Macau to gamble!) The towers are even connected by a breathtaking sky bridge.
This architectural masterpiece was inspired by traditional Chinese jade carving techniques that create fluid forms from hard materials. The Morpheus appears light and delicate but in fact contains four times the weight of iron used in Paris' Eiffel Tower! And the ridges of the exoskeleton provide shade for heat control.
Inside this art-like skyscraper, freed from structural walls, a design like you've never experienced before. The hotel atrium occupies the height of the entire hotel between the two towers! And the voids create vast interior spaces, and along with high-speed glass elevators, guests have breathtaking views of both the city and the unique interior with high tech solutions and art installations by famous global artists and even street artists.
Restaurant lounges and bars occupy bridges running through the structure' central void.
Alain Ducasse at Morpheus, City of Dreams (photo credit: Pierre Monetta)
If you can tear yourself away from the view, you'll be in another world first, this one culinary. The World of Ducasse at Morpheus is a partnership with iconic chef Alain Ducasse. For the first time ever, an entire hotel floor is devoted to two Ducasse restaurants and bar.
Alain Ducasse: Small Spelt from Haute-Provence, Seasonal Vegetables, Shaved Black Truffle (photo credit: Pierre Monetta)
There's also a partnership with Parisian chef Pierre Herme, also known as 'the Picasso of Pastry', as well as Yi at Sky Bridge, the world's only Chinese fine-dining restaurant serving a mix of Chinese regional dishes in Japanese omakase-style.
You'll find other world-firsts in the spa, with its in-house Spa Butler concept and the first spa in the world to feature real snow in its 'Snow Garden'.
The spa and the appropriately-named Sky Pool top the 40-storey hotel, over 400 feet above the hotel interior below, a spectacular view of the Macau skyline.
Then there's the gaming salons and world-class collection of retail stores. Morpheus and the City of Dreams cement Macau's status as the one of the world's top grown-up fantasy escape/entertainment destination.
Start your Trip!
Copyright BestTrip.TV/Influence Entertainment Group Inc or Rights Holder. All rights reserved. You are welcome to share this material from this page, but it may not be published, broadcast, rewritten or redistributed.
Two hundred years ago, Europeans started referring to the region between India and China as Indochina.
Already, it was recognized as one of the most beautiful, exotic, culturally unique destinations on the planet. With its very strategic position, Indochina was also center-stage in some of the defining conflicts of the 20th century including the Pacific theater of WW2 and the Vietnam War.
Fast-forward to today, and the legendary countries of South-East Asia - SEA for short - are magnets for travelers by land and sea. Dense tropical jungles and one-of-a-kind plants and wildlife, fabled rivers and waterways, beloved cuisine, some of the world's most beautiful beaches, mountains tiered with rice terraces, gilded temples and Buddhist monks, dizzying markets and spectacular sunsets are hallmarks of these nations.
The term Indochina, or the French Indochine, is still used particularly to refer to traditional or colonial culture in the region, which you'll still find preserved in these rapidly-growing economies and modernizing nations.
Lynn Elmhirst, producer/host of BestTrip.TV shares the must-see sites in the 7 SEA countries:
Thailand
This nation tops nearly everyone's SEA travel bucket list, from backpackers to those in search of 6-star luxury exotic escapes. The Land of Smiles is a smorgasbord of South-East-Asian culture. You won't want to miss Thai cuisine at the source in fabulous restaurants or from street vendors or markets. There are 40,000 temples in this kingdom, including one containing the world's largest solid gold Buddha in Bangkok.
The capital is firmly in the world's top-three global travel destinations every year, and also home to floating markets, tuk tuk taxis, royal palaces and massive shopping malls. Thailand's rural attractions include jungles and elephant sanctuaries, legendary beaches and island destinations like Phuket, Koh Samui, the famous Sunset Beach on Koh Kradan and the Golden Swan Temple (pictured top).
Watch Video: The Real Name of the Capital of Thailand… is Not Bangkok
Vietnam
The tragedy of the Vietnam War is in the past for modern Vietnamese who are among the warmest people in Asia, if not the world. The still-communist country welcomes growing numbers of American and Western visitors. Many travelers – especially Americans - find it hard to believe the country permits and even promotes interest in Vietnam War-era sites like tours to the Viet Cong's legendary Cu Chi tunnels near Ho Chi Minh City and the famous American R&R China Beach near Danang. Everyone visits Ho Chi Minh (HCM) City and its ornate, French colonial public buildings, famous historic hotels and the top-ranked Saigon market. But don't miss other cities in Vietnam like historic imperial Hue and the ancient canal town of Hoi An – stay in town long enough to have some custom-tailored clothing made!
An day trip or even a journey on the mighty Mekong river, with its floating markets, and entire communities is unforgettable. And UNESCO World Heritage site Halong Bay's emerald waters and mystical islands are a traveler's dream.
Watch Video: Kayaking in Mystical Halong Bay
Laos
This is the only land-locked nation in Indochina, and perhaps that's why it's later to the tourism party than other SEA countries. For many travelers, the path least traveled is exactly where you'll want to go next.
The highlight of any trip to Laos is Luang Prabang. This UNESCO World Heritage Site has been inhabited for thousands of years, nestled in a valley where the mythical Mekong and Nam Khan rivers meet. Luang Prabang is a cultural and religious center with historic temples, serene Mekong river scenery, the magical Kuang Si waterfalls with its series of swimming holes, falls and ideal picnic sites, and even an Asian black bear rescue center.
Cambodia
For travelers, Cambodia's has two claims to fame: one joyful, the other very dark. Travelers to neighboring SEA countries take trips into Cambodia solely to visit iconic UNESCO World Heritage Site Angkor Wat. This 12th century temple is part of the largest religious monument in the world – a 400-acre complex isolated by a dramatic moat that is a top global bucket list destination.
Equally compelling but difficult to experience are the museum and sites associated with the Khmer Rouge genocide known as The Killing Fields. But there's more to experience in the capital Phnom Penh: Cambodia's position where Mekong and Tonle Sap rivers meet made it the natural center for both Khmer and French colonial regimes. Today, its busy riverfront, art deco market, Royal Palace and Silver Pagoda make it worth an extended stay to explore.
Myanmar
The country formerly known as Burma is fast becoming a country that adventurous travelers want to see before the tourist scene gets very busy. The capital city Yangon is home to ancient Buddhist sites, including the oldest pagoda in the world. The Shwedagon pagoda dates back 2500 years, and is the national symbol and holy site of the nation.
Outside the capital you'll find one of the world's greatest archaeological wonders: the 2300 pagodas and temples on the plains of Bagan. You can even get an overview of the entire complex on a hot air balloon ride. Inle Lake, surrounded by misty mountains, is a time capsule of local people who still live with the land in stilt houses, with floating gardens and a famous fishing technique. Rudyard Kipling coined the phrase 'Road to Mandalay' to refer to the majestic Irawaddy River. Some major cruise companies offer river cruise tours on this exotic waterway.
Malaysia
Mainland Malaysia occupies the southern end of the SEA peninsula, as well as parts of the nearby island of Borneo. The wilderness is famous for wildlife reserves protecting endangered orangutans, tigers, rhinos and elephants, the beaches of Langkawi, and storied tribes of head-hunters whose villages on stilts over rivers in Borneo you can still visit. Cooler Cameron Highlands are home to tea plantations where you can do a tasting tour. Colonial European heritage landmarks include the sites in colorful Malacca, and Penang's landmark Eastern & Oriental hotel – a sea front sister hotel that pre-dated the famous Raffles in Singapore.
Don't skip Malaysia's ultra-modern capital Kuala Lumpur. KL is a fascinating vision of the future of SEA, not to mention the record-breaking Petronas Twin Towers connected by a sky-high bridge that's featured in action films and many an Instagram post.
Singapore
This city-state and global financial center at the end of the Malaysian mainland is the only island nation of SEA. Singapore has preserved a core of its colonial past, with high rises surrounding the historic cricket field and colonial buildings, including nearby, one of the world's most famous historic hotels. Legends are still told of the early days of the Raffles Hotel and the Long Bar, where the Singapore Sling was invented. Take time to wet your lips with one of the world's most famous cocktails and soak up the bygone atmosphere.
But Singapore is more famous now for its almost surreal ultramodern vision and skyline. The symbol of modern Singapore is the already-iconic Marina Bay Sands Hotel and Casino's three-pillar towers topped by a surfboard-like top floor with the world's largest infinity pool overlooking the city. The 250-acre Gardens by the Bay, with the grove of futuristic super trees takes Singapore's love of green space to a space-age level. Singapore is a popular SEA cruise port of embarkation/ debarkation, and well worth extending your trip pre- or post- cruise to explore.
Indochina is no longer a place on a map – but it's still one of the world's top travel destinations.
Start your Trip!
Copyright BestTrip.TV/Influence Entertainment Group Inc or Rights Holder. All rights reserved. You are welcome to share this material from this page, but it may not be published, broadcast, rewritten or redistributed.
The 2018 Winter Olympics remind us how exciting a travel destination Korea is.South Korea has an enviable range of high octane urban, spectacular mountain, beach and countryside destinations, a rich history, culture and cuisine as well as a world-renowned pop culture that rank South Korea among the most unique places in Asia. Visit by land or by cruise ship; the Korean peninsula has several major ports and a long-established maritime lifestyle.
Here's a list of places you'll want to include on a trip to South Korea.
PyeongchangYou may never have heard of Pyeongchang until it was designated host of the 2018 Winter games, but this winter resort area is a natural Winter Olympic host. Its catchy slogan is 'Happy 700 Pyeongchang', referring to the city's 700 meter (2300 foot) elevation in the Taeback mountain region east of the South Korean capital of Seoul.
Photo Credit
As you'd expect, Pyeongchang sees seasonal snow and low enough temperatures to sustain outdoor winter sports. Two resorts in the region attract skiers, boarders as well as off-season mountain hiking. They're the core of the winter games sites, which have also resulted in additional hotel and sports facilities.
Photo Credit
The Olympics brought other advances, too. A new high-speed (250 km/h or 155 mph) train now brings visitors from Seoul in less than an hour and a half. Don't spend all your time on the slopes in Pyeongchang. Take a break for your spiritual wellness at one of the area's notable and historic Buddhist temples.
SeoulSeoul is the 4th most economically powerful city in the world, the hub of its global technology, electronics, and auto industry wealth. Like other large, wealthy Asian cities with extraordinary modernism, high-tech, high-rise Seoul can feel surreal to visitors. The center of K-pop (Korean pop music), entertainment and media, this is a city that never sleeps. (Top Photo Credit)
Photo Credit
Seoul is land-locked and surrounded by mountains. The city was established on the Han river 2000 years ago, and has been Korea's capital for over six centuries. Korea's west-coast port of Incheon is right next door; if your Asia cruise has a call there, you'll be well-positioned to do some 'Seoul searching'.
Photo Credit
Seoul's neighborhoods are landmark destinations in a whirlwind city. Among the skyscrapers, neon, miles of packed arcades and landmark hotels, you'll be immersed in the lifestyle of one of the largest urban centers in the world, Korean style: chic drinks and dinners as well as upscale shopping for local and international brands.
But don't miss the historic and authentic side of Korea in Seoul. Artisan and local craft markets, the Joseon Dynasty palace complexes of traditional architecture, local festivals and religious ceremonies with celebrants in traditional dress are distinctly Korean experiences. The area is home to 5 UNESCO World Heritage sites as well its international design award-winning modern architecture.
Jeju IslandFormed by volcanic eruptions over 2 million years ago, Jeju island is the largest island off the Korean peninsula, 85 km (50 miles) south of the peninsula in the waters between Korea and Japan. Jeju's lava base limited early agriculture and resulted in a unique and pristine ecology that set Jeju apart from anywhere else on earth.
Photo Credit
It also created breathtaking lava formations including one of the biggest lava tubes in the world, nearly 9 km (over 5 miles) long and close to a hundred feet high and wide. Visitors are in awe of the full range of cave architecture like columns, benches, bridges and more. The 7.6 meter (25 foot) column of lava inside is the largest known in the world. The caves are home to exceptional wildlife, including a 30,000 strong colony of bats.
Photo Credit
Jeju is an increasingly popular resort island, with a sub-tropical, humid climate warmer than the rest of Korea and some stunning beaches. The island, historically isolated from the mainland, also has its own cultural, clothing, architectural and language traditions.
BusanSouth Korea's second biggest city, on the south-east coast of the peninsula, is also the country's largest port. Many Asian cruises call at Busan. Like Seoul, it's a fascinating combination of history and tradition on the one hand, and eye-popping ultra-modern urban lifestyle on the other. Shop til you drop at the world's largest department store, and take a wellness break at one of the city's dozens of traditional spas using natural-sourced spring water.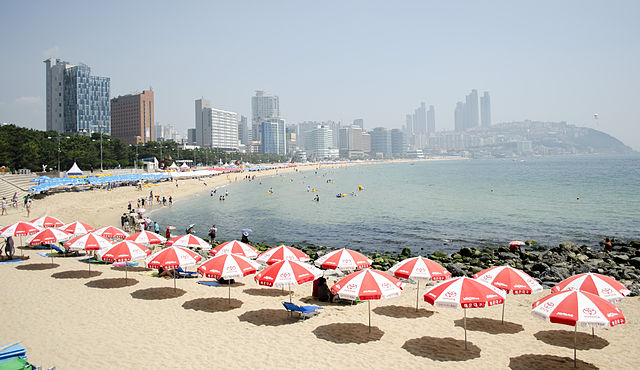 Photo Credit
Compared to Seoul, Busan is blessed with a warmer climate, beaches, and a maritime lifestyle including a renowned fish market, and signature seafood cuisine. Surrounding mountains provide cool air and magnificent vistas over the sea. Many Korean temples are at the tops of mountain hikes, so don't miss one spectacular exception, the Haedong Yonggung Temple on Busan's coast overlooking the Sea of Japan.
Photo Credit
The Demilitarized Zone (DMZ)The DMZ is a 4 km (2 ½ mile) wide no man's land between the two Koreas that spans the entire peninsula 250 km (150 miles) from sea to sea. The DMZ is a very real reminder of the conflict between the two Koreas that remains unresolved today.
Don't let the name mislead you. It's called 'demilitarized', but Korea's DMZ is actually one of the most heavily armed, land-mined, barricaded and patrolled regions of the world. Tours into the DMZ bring the history of the Cold War conflict that split this country into high relief. It also soberly memorializes the lives lost and families separated as a result of the division of the country. Absent human activity in the area, several formerly endangered species have re-established footholds in the DMZ. So there's that small consolation. As an experience of military tourism and reminder of the repercussions of the Cold War that still exist today, Korea's DMZ is unlike anywhere else on the planet.
Photo Credit
The Olympic flame only burns in Korea during the games, but we hope the 2018 Winter Olympics shine a permanent spotlight on South Korea as one of Asia's most unique – and unmissable – travel destinations. Start your Trip!
Copyright BestTrip.TV/Influence Entertainment Group Inc or Rights Holder. All rights reserved. You are welcome to share this material from this page, but it may not be published, broadcast, rewritten or redistributed.
It's China's 'Great Wall' for the 21st century. The 3 Gorges Dam spans the legendary Yangtze River for 2.3 km (1.4 miles) and is 185 m (over 600 feet) high. That makes it 5 times bigger than the Hoover Dam. Construction set a world record, using 16 million cubic m (21 million cubic yards) of concrete.You may know about some of the controversies surrounding the dam. It flooded a 600 km (400 mile) reservoir to 175 feet above sea level. As a result, a million people were displaced, and architectural, cultural, and archeological sites (including 4000 year old cliff side burials of early Ba peoples) as well as farms and forests have disappeared under water. The dam has also had an impact on the river ecology upstream and downstream from the dam. It is blamed for damaging fish populations and the functional extinction of the Chinese river dolphin.
But, like the Hoover Dam in the U.S., Egypt's Aswan Dam, the Panama Canal or other extraordinary feats of human engineering of the planet, the 3 Gorges dam in China's Hubei province is an unforgettable travel experience. Controversies aside, it is awe-inspiring to take in the sheer scale and scope of human endeavor. Yangtze river cruises and most land tours in the region take you to one or more viewing points of the vast dam site.
So here are three things you might not know about this unparalleled structure:
It Protects the Region from Disastrous FloodingOne of the main reasons to build the 3 Gorges dam was to control flooding. The Yangtze river has endured catastrophic flooding events over the centuries. An estimated 300,000 people died in the 20th century alone in floods. Building the dam was designed to control the flow and protect 15 million Chinese and 1.5 million acres of farmland along the Yangtze from deadly river flooding.
It Generates PowerThe Three Gorges Dam is the world's largest electric power generating station by installed capacity: 22, 500 MW. More than 2 dozen water-powered turbines produce 20 times the power of the Hoover Dam. Unbelievably, this massive dam produces less than 5% of the total energy needs of this country with 1.4 billion people. (Nearly 5 times the U.S. population and 50 times the population of Canada.)
The electricity produced by the Three Gorges Dam reduces China's use of coal for power generation by an estimated 31 million tonnes each year, preventing 100 million tonnes of greenhouse gas emissions from coal.
It Improves the EnvironmentThe dam's regulation of water levels, and its 'shipping elevator' that increases transit time compared to step locks over river elevations, have facilitated more reliable shipping along the Yangtze. Inland shipping has increased over 5 times since pre-dam days. Barges are replacing trucks, thereby reducing road congestion and carbon dioxide emissions annually by millions of tonnes… directly improving China's (previously famously unimpressive) air quality.
Since the dam opened in 2012, it has blocked more than 10 million tonnes of waste matter including plastic bags, bottles and other garbage that would have otherwise flowed out to sea (but chemical water pollution is unaffected). It even has a garbage-ingesting 'tongue' above the dam, a rolling track on top of a garbage barge that pulls in garbage from the water, preventing it from entering the dam and damaging power generators… as well as flowing downstream to Shanghai and the ocean.
So Should you Travel There?China's 3 Gorges Dam is a story with many shades of gray. The goals and results of the dam will continue to divide opinion. But it is now an irreversible part of the landscape of China's fabled jade-green Yangtze river, and a destination every visitor to China should see to contemplate the astonishing things humans can achieve… and at what cost.
(Photo: BestTrip.TV)
Copyright BestTrip.TV/Influence Entertainment Group Inc or Rights Holder. All rights reserved. You are welcome to share this material from this page, but it may not be published, broadcast, rewritten or redistributed
They call it Shopping with the Chef, and it's one of the most memorable of our Seabourn Moments.
The Ben Thanh Market in District 1 is one of the earliest surviving structures and a symbol of Ho Chi Minh City - formerly Saigon, which is still the name of HCMC's District 1. A market has been located here in on the river since the early 1600's.
Who better than the executive chef on our Seabourn cruise from Hong Kong to Singapore, Pascal de Portemont, and our local expert, Mr. Anh, to share with us the highlights one of South-East Asia's most famous markets?
This is no tourist market, though any savvy traveler makes sure to visit. Locals buy and sell produce so fresh it glistens, and seafood so fresh it still squiggles live in the bucket. Artisan crafts, textiles, baked goods and streetfood are irresistible.
But our quest with the Seabourn chef is ingredients for a seafood dish fit for Seabourn; watch this video for our adventures in the market and the dish we prepare with the chef on the top deck of this luxury cruise ship docked right in the heart of downtown Ho Chi Minh City, Vietnam.
Start your Trip!
Copyright BestTrip.TV/Influence Entertainment Group Inc or Rights Holder. All rights reserved. You are welcome to share this material from this page, but it may not be published, broadcast, rewritten or redistributed.
Most of the time, breaking an historic religious icon does not turn out well. But when workers moving a large and very old but otherwise unremarkable plaster statue of Buddha in Bangkok in 1955 dropped their load, they got lucky. The accident revealed an amazing secret: the plaster with modest inlaid glass decoration was a decoy shell concealing the world's largest solid gold Buddha.
By Lynn Elmhirst, Producer/ Host, BestTrip.TV
Hidden in Plain Sight
The design of the Buddha suggests it dates to the 13th or 14th centuries. It's believed when dangerous times were at hand during Burmese invasions in the 1700's, the solid gold statue was plastered over to cleverly hide the magnificent religious treasure in plain sight. In the confusion, dynastic changes, and moves that followed, the Golden Buddha's secret was lost to time. And so it sat under a simple open air roof in the unremarkable Bangkok temple Wat Traimit for hundreds of years – until it was dropped moving it to an indoor location.
Rather than hiding this phenomenal – and phenomenally valuable – discovery, temple officials have kept the Golden Buddha available for public worship at the temple. In 2010, they even opened a new, gold-leaf trimmed chapel to house this priceless treasure.
All photos: BestTrip.TV
That put Wat Traimit at the top of our film crew's must-visit list among the 400 temples in Thailand's capital city. Gold features prominently in Thailand's vivid national palette and design, but being face to face with the world's largest solid gold Buddha is heart-stopping. In ways we didn't expect.
Record Breaking – but Humble
It weighs 5.5 tons. And it's about 83% pure gold. That makes the gold in the statue alone worth about $250 million. The Golden Buddha's seated figure rises 15 feet above kneeling worshippers.
On arrival at the temple, you climb 4 stories of white marble steps leading to the chapel perched at the top overlooking the Bangkok skyline. Once inside, you might expect bristling guards, high tech security, crowds marched past with barely time to take a quick pic. But for a treasure of its worth and historic significance, the Golden Buddha's existence is almost humble.
The author (left) at Wat Traimit. No bare shoulders, no bare knees, and shoes off. Respecting Thai temple etiquette.
The marble and gold leafed chapel sounds extravagant, but it's quite restrained and no more spectacular than many other temple structures in Thailand. The Golden Buddha may be a tourist attraction, but not a tourist trap. Monks, local worshippers and visitors mingle. Instead of a vast hall to maximize visitor numbers (and revenue), the massive statue occupies a small room.
For visitors, that intensifies the experience. The deep reddish gold almost pulses in the way it catches dim light and warms the nearby cool white marble walls. Only a couple of dozen visitors and worshippers are able to fit inside the chapel at any given time. Worshippers place offerings and visitors can join them on a single carpet only a few feet in front of the Buddha.
It may be solid gold, but the temple monks and fellow worshippers interact with the Golden Buddha as they would any other neighborhood temple Buddha.
That might be the most remarkable part of our visit to Wat Traimit. We were expecting to be – as one of our production team said – 'wowed by the bling'. Instead, we experienced a space of beauty and almost simple serenity. As if the Golden Buddha were still hiding behind its plaster mask. Simplicity and serenity, mainstays of Buddhist practice, in the presence of what might be the most valuable and storied piece of solid gold in existence, might be the real treasure of the statue.
Start your Trip!
Copyright BestTrip.TV/Influence Entertainment Group Inc or Rights Holder. All rights reserved. You are welcome to share this material from this page, but it may not be published, broadcast, rewritten or redistributed.
Springtime cherry blossom viewing has become one of the best-known Japanese festivals around the world.
BestTrip.TV's Producer and Host Lynn Elmhirst shares her experience of 'Hanami', and some tips if you are lucky enough to travel to Japan during those magical few weeks every spring.
I'm a tree hugger. I love nature, woods walks, gardens and flower shows, making fresh bouquets for my home… I've even studied Japanese flower arranging (ikebana). So imagine how excited I was to be in Japan during the season when their famous cherry blossoms are in bloom. And to be invited to join a 'Hanami' party. (Top image credit).
'Hana' means flower in Japanese, and in this context, means almost exclusively cherry blossoms (sakura), although it can also mean other flowering fruit trees, especially plum (ume). 'Mi' is from the verb to see or view.
So Hanami is just a simple Japanese word 'Flower blossom viewing', but it has become one of the most revered Japanese traditions.
Hanami as a custom is believed to go back over a thousand years, even as far back as the 700's, during a time of tremendous cultural growth in Japan.
At that time, the practice was more closely related to agricultural and divining purposes, to announce the rice-planting season and predict the harvest. Naturally, offerings were made to the spirits in the fruit trees. This eventually evolved into including sake drinking in the offering.
Well you know where it went from there. Parties.
Once an Emperor in the Heian period started holding flower-viewing parties with sake and feasting beneath the blossoming trees, he set the scene for centuries to come. Poetry was written about the lacy, delicate flowers, seen as a symbol of the short-lived beauty of life itself. Masses of plantings in full bloom appear from a distance like fluffy pale pink clouds, inspiring generations of artists. Paintings, wood block prints, and tapestries celebrated the barely-pink blossoms and their increasing meaning to Japanese society. Where royalty and artists set a trend, the rest of society follows. Soon, even common people were planting cherry trees and taking picnic meals and drinking sake under the boughs of blossoming cherry trees.
Fast-forward to today, and that custom remains. I had some vague notion in my head that we'd stroll in awe under bowers of blossoms in the castle grounds, perhaps ending the uplifting Nature experience with some tea.
Instead, one member of our group went out at 6 am that morning with plastic picnic sheeting to lay out and stake a claim to a prime picnic spot under a particularly beautiful tree with a broader view over the park. By the time we joined him late afternoon, other parties had clearly been going on for hours. And the sake, beer, and shochu (sometimes called 'Japanese vodka') had been flowing.
The blossoms were breathtaking, but they didn't seem to be the star of the show. Cherry blossoms were just the set. It was all about the party. Barbecues, drinks, portable karaoke machines created a raucous scene – in an admittedly pretty magical atmosphere. In many places, hanami viewing starts after work – is even a work /colleague event – and continues late into the night. Some parks hang paper lanterns to light the trees.
Night Hanami. Image credit.
The contrast between the charm of the blossoms and trees and twinkling lights and the noisy parties below is shocking to a first timer like me. I found myself trying to block out the noise to find a sense of the wonder and spirituality of the earliest Hanami participants.
And for all the seeming irreverence, the Japanese take viewing very seriously. People past the age of enjoying raucous parties still do hanami, often more in temples, where they follow prayer rituals. TV news and papers forecast the 'cherry blossom front', following the season from the warmer south to the cooler north, only a couple of weeks in each place, and only a few days of truly prime viewing. In the big cities of Osaka and Tokyo and the ancient capital Kyoto, cherry blossom season normally takes place at the end of March and early April.
A blossom forecast with the predicted dates of blossoms. The numbers are for dates (3.22 is March 22). Note the "cherry blossom front" moves from South to North. Image credit.
If you are traveling to Japan on pleasure or business any time near cherry blossom season, find a way to participate in a party. If you do 'hanami', there are some etiquette rules to follow:
Tips for Hanami in Japan:Be respectful of the mass of blossom admirers and the cherry trees themselves; don't shake branches, step on roots, or pick blossoms.
Many blossom parties and venues can be rowdy, but not always. If most admirers are in prayer or quiet contemplation, a loud foreigner can wreck that experience for them AND the reputation of foreigners in Japan. Don't be that guy.
Although parties with sake, beer, shochu (sometimes called 'Japanese vodka') are part of the modern ritual, be warned that not all parks permit alcohol; hopefully, you're going with Japanese friends, a guide, or colleagues, and they'll know if you can toast the blossoms with spirits.
Similarly, not all parks permit barbecues, so your packed Hanami picnic may have to be cold and pre-prepared.
Some parks don't have garbage collection capacity for the huge flow of Hanami traffic; be prepared to dispose of your garbage in your own bags.
The Japanese National Tourism Organization publishes a list of the best places to view cherry blossoms. You can find it here: http://www.jnto.go.jp/eng/location/interests/cherry.html
Start your trip!
Copyright BestTrip.TV/Influence Entertainment Group Inc or Rights Holder. All rights reserved. You are welcome to share this material from this page, but it may not be published, broadcast, rewritten or redistributed.
Kung Hei Fat Choy!
BestTrip.TV discovers the traditions, the spectacle and the little known facts behind one of Hong Kong's biggest festivals.
Chinese New Year - or Lunar New Year - is celebrated not only in mainland China, plus Hong Kong and Macau, but also in Chinese communities around the world, as well as throughout South-East Asia: Singapore, Viet Nam, Thailand, Taiwan, the Philippines and others.
Chinese New Year falls on different dates every year in January or February, with each year dedicated to a different creature of the Chinese zodiac. Celebrations last days in Hong Kong, and include adorable lion dances, temple activities, special foods, flowers, and plants, wearing red, exchanging gifts and other traditions for good fortune, a magnificent parade in downtown Hong Kong... and fireworks!
We visited Hong Kong on Chinese New Year, and we think it's one of the most exciting times to visit one of the world's most exciting cities.
It's hard to imagine the awe-inspiring Hong Kong harbor front skyline become even more spectacular... but this Chinese New Year fireworks show takes it to a whole new level.
Start your Trip!
Copyright BestTrip.TV/Influence Entertainment Group Inc or Rights Holder. All rights reserved. You are welcome to share this material from this page, but it may not be published, broadcast, rewritten or redistributed.
Get the Travel Tips
Get The Savvy Traveler Newsletter
Things we blog about
Places we've blogged about